Another impromptu post on another summertime favorite – Goi cuon (Vietnamese Summer Rolls, Spring Rolls, Fresh Rolls).
Tasty, fresh, and super easy to make. The only thing you have to cook are the noodles unless you plan to include grilled veggies – or meat or seafood. Use this as a guide, feel free to substitute ingredients.
You'll need:
– Rice Paper Sheets (I buy mine at Midland Market, a local Asian Market)
– Bean Thread Noodles or Rice Noodles (from Midland Market)
– Fried Tofu (again, from Midland Market or you can prepare your own) or meat or seafood.
– Veggies – Carrots, Cucumber, Bean Sprouts, Green Leaf Lettuce, Zucchini, anything you want. Julienne, slice, bias cut…change the cut to suit your taste and mood. Grilled strips of zucchini or eggplant are also nice to include!
– Herbs – Basil, Mint, Cilantro, Chives, Parilla, anything you want. Large and whole…though you could chiffonade if it suits you.
– Dipping Sauce – Fish sauce or Peanut sauce. I like the latter and make my own, I like it heavy on ginger and heat 🙂
– Sriracha! Loads of Sriracha. As an ingredient in the peanut sauce but also straight up on each bite 🙂
– Cutting board placed over your sink, you'll use this when you soften the rice paper sheets.
– Large plate or another cutting board for preparing the roll.
How to: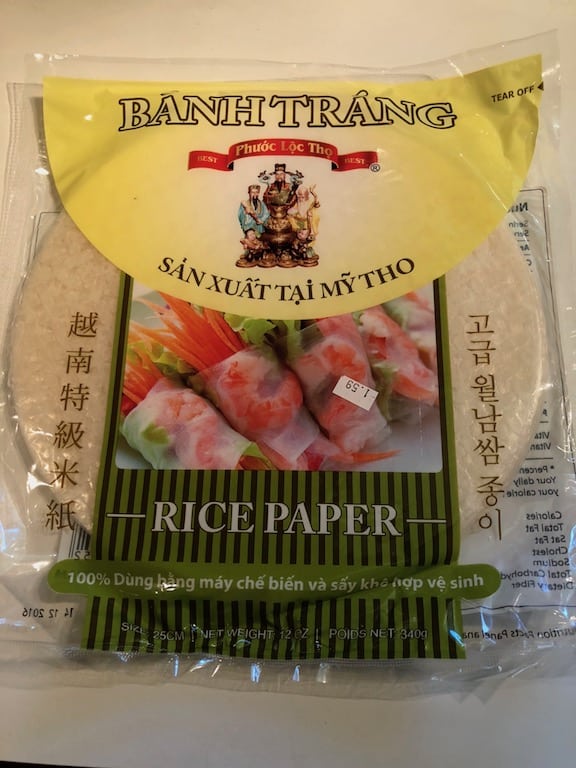 The rice paper sheets are packaged as a dry product. You'll soften them 1 at a time as you need them.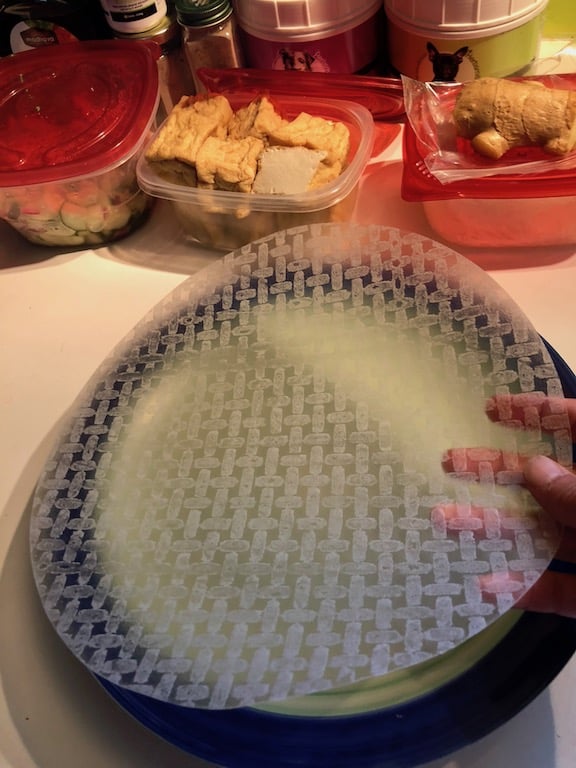 To soften: place 1 sheet of rice paper on the cutting board positioned over your sink. Spread water over the rice paper, covering it completely, wait 15 or so seconds, flip it over, repeat. You want the rice paper to soften and give, but not so soft it's hard to handle. If unsure, lean toward slightly firm, it'll continue to soften as you layer ingredients. Next lift the rice paper, let the water drain off, and transfer it to a plate or another cutting board so you can prepare the roll.
For the first layer, place several whole leaves of mint or basil. They'll show through the rice paper for a nice presentation 🙂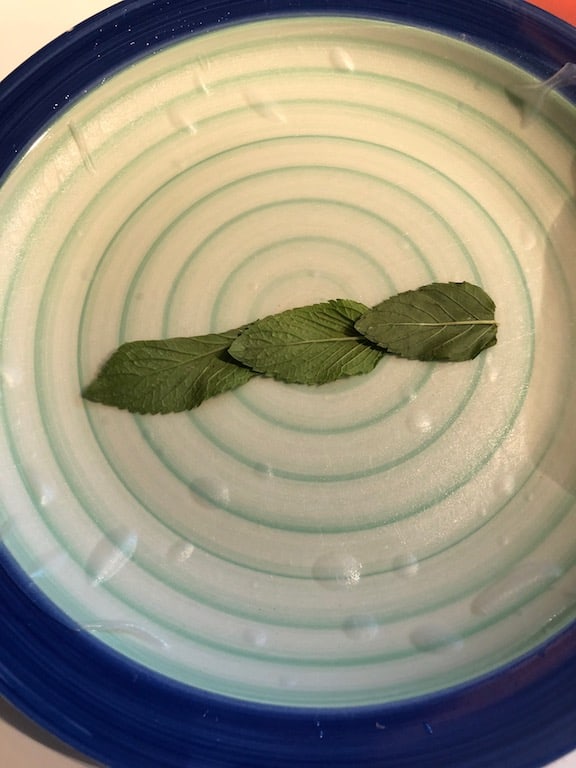 I tend to add my noodles next, they make a nice bed for subsequent layers. Carrots used here are baby petites sliced lengthwise because that's what I had on hand – you could certainly use regular sized carrots cut to your liking. Cucumbers I usually slice lengthwise but I had diced cucumbers in vinegar on hand so I used those. Julienne, slice, bias cut…change the cuts to suit your taste and mood. I include bean sprouts when I can get them, this recipe doesn't have them. Grilled strips of zucchini or eggplant are also nice to include!
This is the fried tofu, I cut each cube into thirds.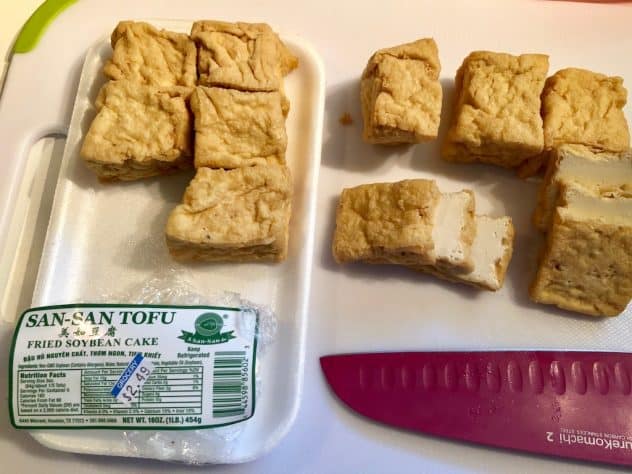 I'm generous on the herbs. I like lots of mint and basil. Cilantro, too, but I was out. Sometimes I'll make each wrap a different flavor / different herb.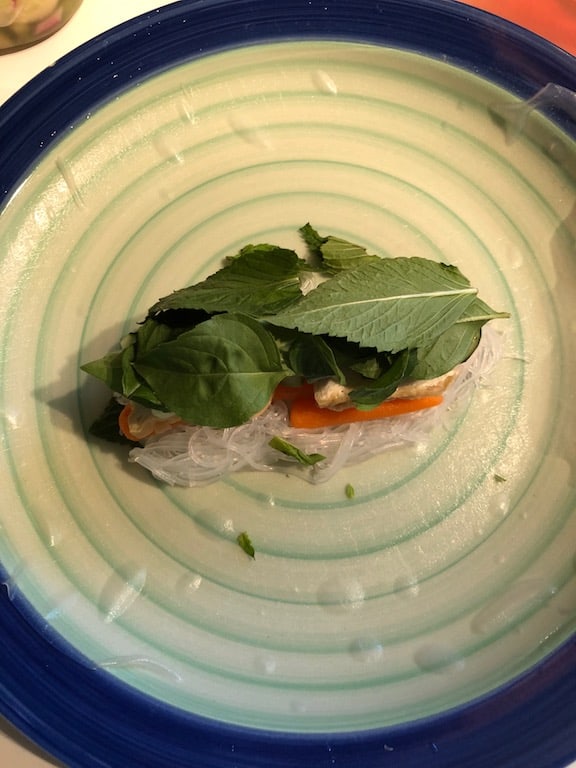 The last ingredient is the green leaf lettuce, it helps steady the ingredients during rolling.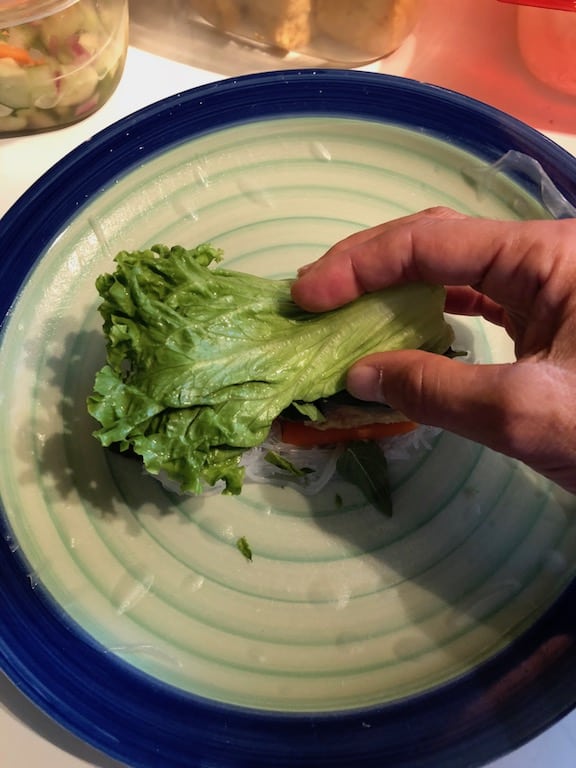 Now you're ready to roll. I haven't pics of that but it's just like rolling up a burrito or similar.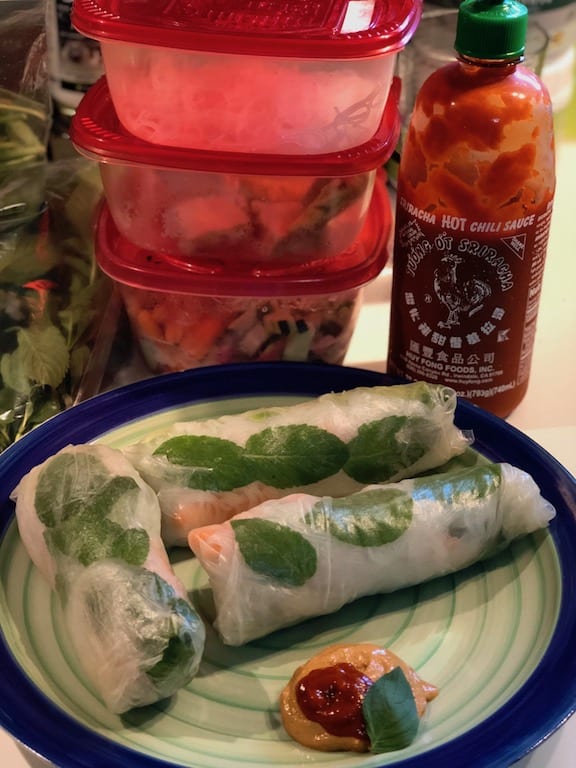 Enjoy!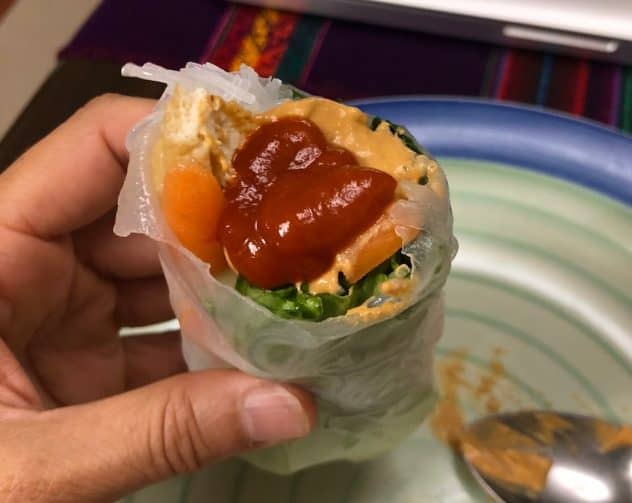 These rolls are a great vehicle for sriracha 😉
(Bean thread noodles and fried tofu)